Chit Chat And Emo Girl Talk
I can't tell you how flattered I was when the lovely Martina Butler from the Emo Girl Talk podcast asked me to be on her show. I must've been blushing for a week straight! We gabbed all about how babe-a-licious Jesse Lacey is and the best way to break into the book biz. The interview is live and streaming so take a trip over there and hear me pretend to know what I'm talking about.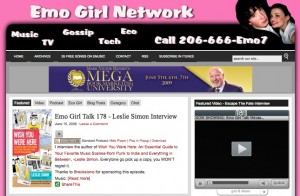 In other news of self-promotion, one of my besties was in NYC last weekend and she sent me the most amazing pictures from Urban Outfitters. I mean, I knew they were selling Wish You Were Here online but I had NO idea it was hitting store shelves. Take that, Chuck Klosterman!
taken!!
A Camp at the Troubador. It was amaaaaaaaaazing!! I have, like, the biggest girl crush on Nina Persson and just being in her presence made me feel like a "Lovefool." (Yeah, I totally went there.)
The band just put out their second album, Colonia, not too long ago and it's super-fantastic awesome. Here's one of my fave songs, "Stronger Than Jesus." Take a listen and let me know what you think! (Warning: Nina Persson is so pretty, it might be hard to look at her for more 30 seconds at a time. If this is the case, feel free to close your eyes and zone out.)