It's All Finally Happening
I saw the craziest thing happen when I was walking down Fairfax this afternoon. I'm not sure what happened before I got to the scene, but it looked like two women were exchanging numbers because of an obvious fender-bender. One woman then drives away and the other, utterly peeved, walks back to her car and pulls her car door open with the strength of 1,000 men. Unfortunately for her, she opened it right into the back of a tow truck. Oof!
I'm not sure why I felt like sharing that pointless anecdote but it's was definitely a signature L.A. moment. Shit like that happens all the time here. I'm just lucky—knock on wood—that it hasn't happened to me. Yet. As long as I can stay out of automobile trouble for the next three weeks, I think I'm set.
"Why the next three weeks," you ask, puzzled.
Because I'm going to have no use for my car when I MOVE TO NEW YORK CITY, bishes!!!!!! Yes, ma'am, I'm absolutely tickled to finally share the incredible news that I will be returning to my beloved Eastern Standard Time in order to take a position at MTV.com.
[Does the running man in place.]
Ever since I was a lil' tot—sneaking peeks at Just Say Julie when my mom wasn't watching—I've always wanted to work for MTV. In fact, it's been kind of a life-long dream. I interned at the 1515 studios when I was in college and it was the most amazing summer of my life. Just being in the brain-center of pop culture was enough to send me into daily fits where I often pinched myself and asked, "Is this really my life? Did I just see Carson Daly on the escalator? I wonder if I just passed Jesse Camp begging for change out front?"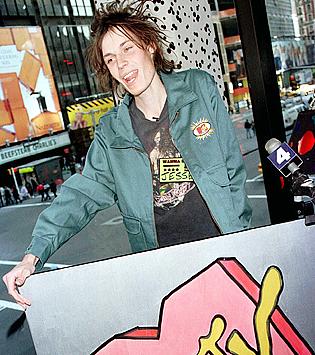 I can't even wrap my head around how crazybrains the next three weeks are going to be but I think I'm up to the task. (I mean, I kinda have to be, right?) In addition to handling all the necessary pre-move activities, I'll also be dutifully working away on my book. Big ups to all of my kindred geek-girl spirits who have joined the revolution and helped me out with their inspiring input. If you want to see what all the fuss is about, check out the Geek Girls Unite web site, follow @geekgirlsunite on Twitter and/or join the Geek Girls Guild group on Facebook.
What else have I been up to? Well, I scribbled up a new Music Is My Boyfriend column for YourItList.com. I've also been contributing daily to MTV Buzzworthy. In case you missed me waxing poetic on such topics as Ke$ha copying Bill Kaulitz from Tokio Hotel's hairdo or the new Pretty Reckless video for "Make Me Wanna Die," you can read all my headlines here.
Okay, I'm going to finish watching 30 Rock and eat some Dorritos before I embark on a 5-week cleanse starting Monday. Wish me luck!