NYC Reading/Signing Announcement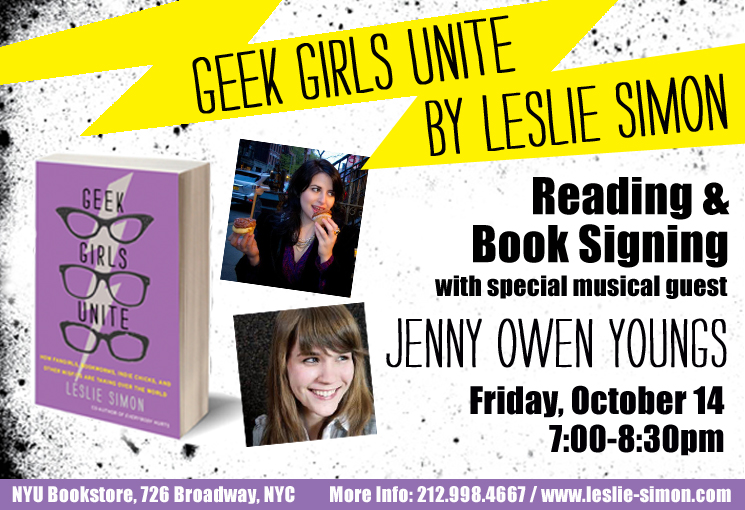 In case you haven't visited the Events page lately, check out which cities I'll be invading in the coming weeks to read/sign/celebrate the release of Geek Girls Unite:
OCT. 9
4 PM at the JBL theater inside the EMP Museum (Seattle, WA)
Are you a fan of science fiction, fantasy, horror, action, gaming, science, anime, roller derby, cosplay, comic books, technology, B-movies, LARPing and video games? Then come by to the first-annual GeekGirlCon and hear me talk about my experiences at Alternative Press during the burgeoning emo scene. I saw all the blood, sweat, tears, and eyeliner that went into being a chart-topping success—and you might not ever hear these juicy stories again! Join me as I question why most of the emo girls are in front of the stage and not on it and why many girls aspire to be muses instead of musicians. Reserve your pass now and be a part of geek girl history! I'll also be doing a signing on OCT. 9 at 3 PM at The University Book Store (Booth #308-309).
OCT. 14
2 PM at the Javits Center (NYC)
If you happen to be wandering around New York Comic Con, come stop by the Harper Collins booth (#944) and I'll sign your copy of Geek Girls Unite. I'll also be handing out limited-edition GGU totes. You don't want to miss out on this shoulder candy.

7 PM – 8:30 PM at the NYU Bookstore (NYC)
Come mingle with other geek girls and hear me read from Geek Girls Unite. I'll also be doing a signing afterward so you'll definitely want to stick around. ** UPDATE ** I'm pleased to announce that the amazingly talented Jenny Owen Youngs will be performing a couple songs for your listening enjoyment. Get there early and bring all your friends!!