Leslie Simon's State Of The Union
Did anyone happen to catch the Facebook's f8 Conference this week? I sure did and couldn't take my eyes of Mark Zuckerberg, which I plan on discussing in-depth during therapy this week. I mostly think it was because of all the crazy apps the social network is introducing, some of which I've already enabled on my profile despite the fact that I don't entirely understand them nor do I really want to relive how many Bright Eyes quotes I've used as status updates over the past five years.
All that aside, I was really inspired by the whole thing and thought it would be cool if I offered up my own State of the Union Address—and by "State of the Union Address," I mean "I'm going to write a long post bout all the crazy stuff that's been going on in my life". You might want to go to the bathroom first. Or grab a snack. Either way, this is gonna take a while.
1. After spending 14 amazing months taking a bite out of the Big Apple, I recently made the move back to Los Angeles to take an amazing job at Warner Bros. Records. I was definitely sad to leave my MTV family but I really couldn't pass up the opportunity to become the label's Senior Creative Director. I just finished my second week at work and I feel like I can't stop smiling. I'm not as excited by all the boxes I still need to unpack or the fact that I need to buy a car, but I'm really trying to focus on the positive—like the fact that my apartment has a jacuzzi tub.
2. Mark your calendars because Geek Girls Unite: How Fangirls, Bookworms, Indie Chicks, And Other Misfits Are Taking Over The World is coming out on Tuesday, Oct. 4, which is almost a week away!! That's right. Geek Girls Unite is coming out next week! I can barely believe it myself. If you haven't pre-ordered it yet, what are you waiting for? If the answer is, "Leslie, I want to walk into a Barnes & Noble, feel the book in my hot lil' hands and then show off my excellent literary taste to the check-out clerk at the front counter," then that's totally acceptable. In fact, I encourage it.
I happen to have some inside connections who sent me an advance copy of the finished book. You might have to wait until next week to turn the pages yourself, but here's a look at what you'll be getting your paws on: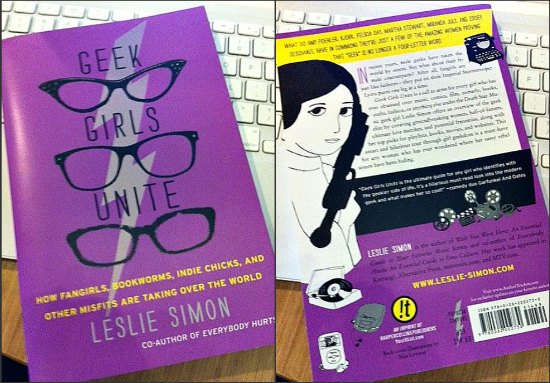 3. To celebrate the release of Geek Girls Unite, I'll be making some appearances over the next few weeks.
First up is GeekGirl Con. I'll be speaking on Sunday, Oct. 9 at 4 PM in the EMP JBL Theater, located in the Experience Music Project. The name of my chat is "Emo Music and the Muse: How Girls Are Depicted On and Off Stage." Come on by and hear me share about my experience at Alternative Press during the burgeoning emo scene. I saw all the blood, sweat, tears, and eyeliner that went into making bands like Fall Out Boy, The All American Rejects and My Chemical Romance chart-topping successes, but there are tons of stories that didn't make it into the pages of AP. Not only am I going to dish the dirt, but I also want to question why most the emo girls are in front of the stage and not on it and why many girls aspire to be muses instead of musicians. Passes are still available and can be purchased online or at these Seattle retailers.

I'll also be doing a signing at 3 PM on Sunday, Oct 9 at the University Book Store (Booth 308-309). You won't want to miss that, either. If you'd like to check out the other amazing geek goddess doing signings over the weekend, check out this handy-dandy Media Signing Schedule.
I'm still ironing out the details for upcoming events in New York City and Los Angeles, but I'm hoping to be able to share more about those in the coming weeks. However, I'm tickled to say I'm slated to make an appearance at New York Comic-Con Oct. 13-16. Throw those lightsabers in the air and stay tuned for more info!!
4. Are you a fan of Geek Girls Unite on Facebook? If not, then hoof it over and press "Like." (This isn't rocket science, people.) Not only are all your friends doing it, but you'll be the first to get info about upcoming events and random goodies. For example, I just previewed the limited-edition tote bag we'll be giving away to special, super-awesome people. Do you think you're special or awesome enough to rock such a rad tote? Then "Like" Geek Girls Unite on Facebook. Here's a taste at what you're missing out on if you don't: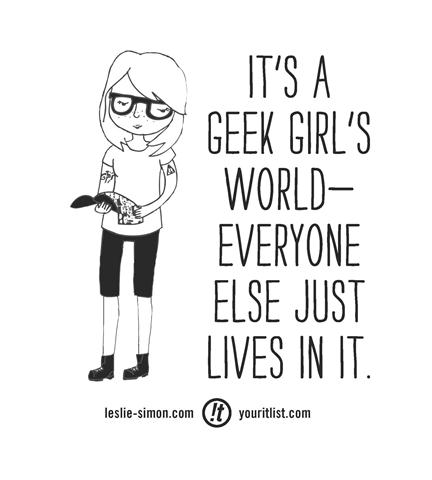 The tote features one of Nan Lawson's amazing illustrations from the book and your shoulder is totally naked without it.
5. In case you were wondering if emo was dead, the answer is a resounding "no." I was recently interviewed by the lovely Jen Verzosa for the San Francisco Bay Guardian on that very topic and I was stoked to show off my music geek girl skills. Read it and tell me what you think!
6. My fingers are getting tired so I'm going to tie a pretty bow on this post by leaving you with two songs that I physically can't stop listening to. The first is "Losers" by The Belle Brigade.
The second is "Video Games" by Lana Del Rey.
You're welcome.