Oklahoma, Okay!
When I was contacted by Dave at Oklahoma Lefty about doing an interview for him and his bitchin' blog, I was stoked beyond words. Two of my dearest bros are from the lovely city of Edmond, so I feel like I'm kind of an Okie by association. I think the Q&A turned out awesome, especially because I heart being called "ultra-hilarious." Score!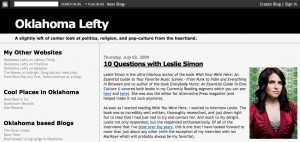 I'm feverishly trying to do a million-and-a-half different things before I get on a jetplane tomorrow and fly to St. Louis, where I'll be meeting up with Paramore on Wednesday. Eek!! I feel like I'm really breaking out of the retirement home for this piece because I haven't written anything like it in what seems like a coon's age. Truth be told, I'm nervous. There… I said it. In fact, I'm nervous, excited, anxious and eager. Howev, most of all, I'm looking forward to a juicy dish sesh with Hayley & Co.
(Fingers crossed!)
Be sure to add me on Twitter—in case you're not already doing so—because I'm sure I'll be unloading all sorts of finger-lickin'-good deets when I'm on the road. Get into it!!