Wish Upon A Shooting Star
The radtastic Miss Lauren Becker over at Shooting Stars Magazine did a lil' Q&A with lil' ol' me. The online zine is super kick-ass and there are some amazing author interviews on there. You should most def take some time and check it out—if for nothing more than to read my deep and eloquent thoughts on Gilmore Girls and Angels & Kings!! I'm talking about ground-breaking revelations, people.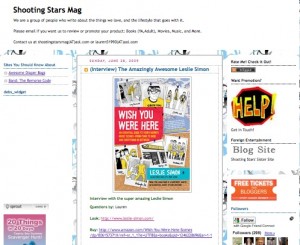 Also, if you aren't already following me on Twitter, GET WITH THE PROGRAM!! You can find me at http://www.twitter.com/redpatterndress. I'm leaving next week to spend some QT with this really small, unknown band. You prolly haven't heard of them. They're called Paramore and I think they're gonna be HUGE one day. I'll be hanging with them for a couple days so you won't want to miss a moment!