Our Little Corner Of The World
For those of you smarty pants who are already following me on Twitter, you've probably seen some pretty dismal updates due to a pretty gnarly cold that has attempted to drag me to hell, Sam Raimi-style. No fear, though. I'm in the midst of waging a pretty impressive war on those pesky lil' cells of bacteria and they don't stand a chance. They may take my energy, but they will not take my freedom! (Sorry, but I've been dying to type that Braveheart impression forevs. Please forgive!)
In my self-imposed, Kleenex-fueled exile, I've been trying to catch up on my sleep, correspondence and all the episodes of Law & Order: SVU a gal can stomach. I also managed to find the time in my terribly busy napping and TV-watching sched to clean up, sort and organize my entire front-hall closet, which has turned up some pretty radtastic goodies, tsotchkes and keepsakes that are absolutely purrrrrrfect for upcoming Twitter giveaways. The timing couldn't be better because thanks to all of you, I've passed the 700 follower mark, which means its time for another Twitter-Away Giveaway Contest!!
[Applause, applause.]
This time I thought I'd choose a topic that celebrated the small screen, seeing that the boob tube has been such a huge part of my life, as of late. (Hell, as of ever!) Therefore, if you'd like to answer my latest giveaway, please answer the following question: "If you could live your life inside any TV show—sitcom, drama, sci-fi or otherwise—what would it be and why?"
For example, mine would be Gilmore Girls because I would love to call Stars Hollow home. I want to pick up candlesticks at Kim's Antiques, chow down pad thai at Al's Pancake World, take a yoga class with Miss Patty and hold hands with my latest boy toy while strolling around town square. Lorelai would be my bestie and we'd roll up to Woodbridge every Tuesday night to grab drinks after a hard day's work. Oh, and don't even get me started on the cupcakery I'd open on Peach Street that would inevitably become the toast of the town.
Okay, Leslie… Back to reality… No matter how bad I wish it were true, Amy Sherman-Palladino is not writing the screenplay of your life—at least not yet.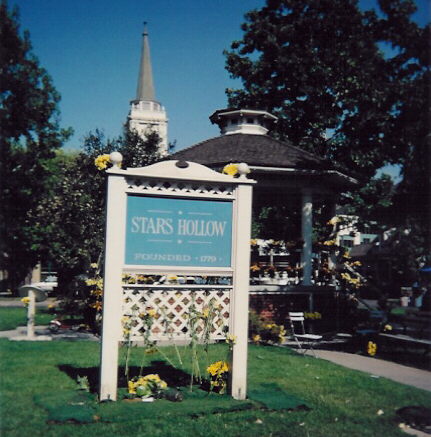 Twitter-Away Giveaway Instructions:
Leave your answer—including TV SHOW TITLE and EXPLANATION—as a comment on this post.
Be sure to include your Twitter name in your comment, as well. You must be actively following me on Twitter in order to win. Yes, I'll check so please don't try to scam me and your fellow followers.
Deadline for submissions is Monday, December 14 at 12 PM PST.
Winner will be notified through Twitter DM so please keep your eyes peeled.
Contests sounds way fancy and profesh when they have detailed instructions, don't they?
If you and your besties aren't following me on Twitter, what are you waiting for?? Also, I heart people that RT. Just sayin!!