Soundtrack Of My Life: Seriously Funny Songs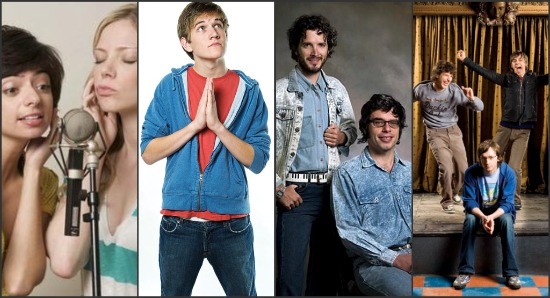 For me, music is a very emotional thing. Sometimes it makes you cry. (Hats off to you, Mumford And Sons.) Other times it makes you want to break s***. (I can't tell you how many times I've blasted The Bronx in my apartment, started a one-person circle pit and accidentally knocked over a ficus.)
Or it can induce a major case of the ha-has. In the last couple weeks, I've put away the weepy ballads and angst anthems in favor of more lighthearted fair. Enough with the tears and shadowboxing. It's time to start LOLing.
I can't seem to get enough "laugh rock" these days, and thankfully I've got Garfunkel And Oates, Bo Burnham, Flight Of The Conchords and The Lonely Island to tickle my funny bone — and a couple other body parts. (Kidding! Sorta.)
To read the entire column, hoof it over to MTV Buzzworthy.