Stars Hollow, Population 1
Monday started off with a bang when one of my longtime dreams came true—I visited Stars Hollow!!! And, to think, I didn't even need to use any frequent flyer miles. Taking photos were a slight no-no, so I was super stealth about it.
When I saw this glorious slab of cement, it was only fitting that I pour out a couple sips of my coffee for my fallen hommies from the Hollow. I mean, this parking space must've been empty since the show went off the air in 2007, right? So sad.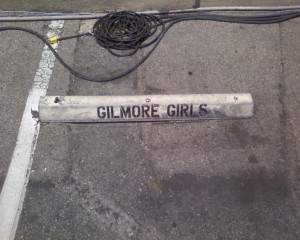 If you look into the distance, you can totes see Miss Patty's dance studio. To the right is Stars Hollow High School and that maroon shop on the right is actually what's left of Luke's Diner. Sadly, the suits at Warner Bros. have given the town a makeover for their new TV series The Witches Of Eastwick. Blerg!!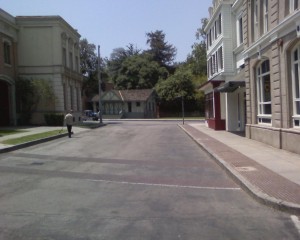 This is the house that Lorelei built. When I walked into the foyer, I seriously got tears in my eyes. That was probably because it was supes dusty—not at all because I'm a giant sap who lives vicariously through the cinematic lives of others.