The Only Thing Missing From My Coffee Table Is Coffee
Coffee table? Where art thou?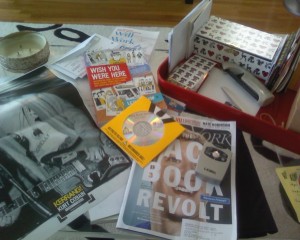 Great news for my L.A. peeps. I'm doing a reading of Wish You Were Here: An Essential Guide To Your Favorite Music Scenes—From Punk To Indie And Everything In Between at Book Soup on Tuesday, April 21. It starts at 7 PM and will go until one of two things happen:
1.) my throat gets so dry I can't croak out another word
2.) I get tired of picturing everyone in their underwear and need to put on my shades
Get all the deets here. Come by and say hi!