The Party Doesn't Start 'Til I Walk In
People, get ready 'cause there's a big post a-coming! First up, I'd like to announce the winner of the last Twitter contest I did. Actually, let's make that winners. I took so gosh-darn long to pick a winner, I thought it was totes appropriate to bestow the honor to two of my fave answers. If ya'll remember, I asked you all to channel your inner small screen and tell me if you could live your life inside any TV show—sitcom, drama, sci-fi or otherwise—what would it be and why? As per usual, your answers were all eloquent and imaginary. (Duh, as if I would expect anything less from you guys!)
That said, I have to give big ups to Amanda for choosing 30 Rock. Here's Amanda's full answer:
I'm going to have to go with 30 Rock. I can see myself as a comedy writer/extra on TGS with Tracy Jordan. My office would be right next to Liz Lemon's, and Toofer and I would be able to have intelligent conversations over coffee, while the other writers are busy laughing at the latest YouTube video.
I would get into the show by moving NYC and becoming neighbors with Liz Lemon, we would become friends after she found out I could cook and am also afraid of choking on something while living alone. We would create a special signal to give each other if we are ever home alone and choking.
I would be her right hand man (girl) when it came to dealing with Jenna and Tracy problems, and even help out when Kenneth the page was busy.
This would work perfectly since there are no prominent female "writers" on the show, besides Liz.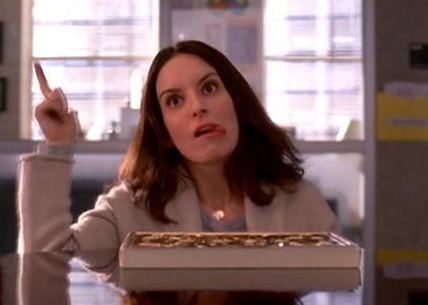 Our second winner is Kendra, who took a trip in the way-back machine and chose Boy Meets World. Here's her answer:
Boy Meets World encompassed everything my life lacked; love life drama, crazy antics and a wise man next door. I would live in the trailer lot next to Shawn Hunter's. Years would pass and I would be that background character viewers would never notice in the 3rd row of Mr. Turner's English class. Everything would change once senior year came though. I would blossom (hey, a girl can dream). However, Shawn would have just fallen head over heels for Angela. I tell myself love can never be forced and let things be for awhile.

Then one Friday morning our eyes would meet over sirens and highway fumes. He tells me he can't hurt Angela and friendship is all we may ever have. As friends we go to Chubbies for a burger. Corey and Topanga notice the connection we have and they tell him it's apparent what girl he needs to be with. Shawn seeks the advice of Mr. Feeny, who just happens to be in the next booth. Always filled with guidance to be taken and not shaken, Feeny tells Shawn to follow his heart as far as he can without falling off a cliff. Natalie Imbruglia's "Torn" plays as the scene fades out into commercials.

Monday morning would be the start of a new week and a new era for our high school lives. I stand at my locker while the rest of John Adams High lingers close to hear Shawn and Angela's end. She looks hurt and I feel for her, but on the inside my heart smiles as wide as the Grand Canyon. After that showcase, Shawn walks over to me, that 90's "everything's going to be all right" music plays and he leans in and kisses me in front of everyone. The audience would hoot and holler and TGIF viewers would call up their BFFs to gab about the newest couple to take over their Tiger Beats.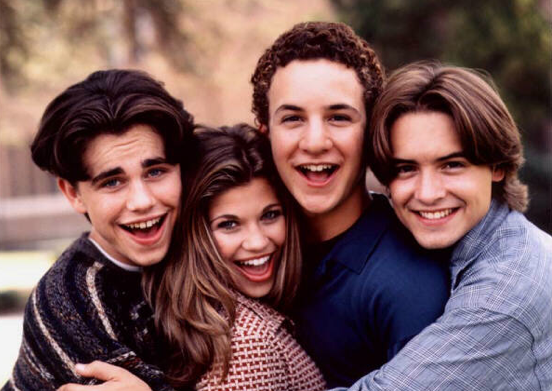 Big ups to Amanda and Kendra for putting the ol' thinking caps on and coming up with such bril answers! You can script supervise my life anytime! As of this afternoon, I currently have 752 followers. Let's see if we can't boost that up to 800!! If you're reading this post and aren't following me on Twitter, be sure to add me as a friend STAT: http://www.twitter.com/redpatterndress. I write funny things.
I don't know about you, but 2010 is shaping up to be a crazybrains year! January was packed with visitors—my friend, the lovely Miss Rachel Lux came from Cleveland to hang and we painted the town red, white and black—and fresh starts. I don't know why, but I've had a bee in my bonnet about being healthy lately. Maybe's it's been how heavy my recycling bin gets every week because it's filled with wine bottles or the top row of my fridge always being stocked with 12-packs of Diet Coke; either way, I really wanted to turn over a nutritious leaf in '10 so I decided to embark on a five-week cleanse with the help of my gorgeous and distgustingly smart nutritionist Annamaria.
For the past three-and-a-half weeks, I've been living without soda, caffeine, soy, dairy, gluten, refined sugar, shellfish, red meat and, most impressively, alcohol. I've got about 10 days left and I actually feel great. Sure, I was slightly jealous on Sunday when my friend Sarah Saturday and I hit a post-Grammy party and I was sucking down club sodas while everyone else was tossing back vodka-y goodness, but it wasn't horrible. After all, if I hadn't been paying attention, I might've missed a pretty spectacular star sighting. (Tsk, tsk, Mr. Schu.)
I also just started work on my next literary adventure this past Monday and I'm bursting with excitement. As soon as the contracts are signed—which should be in the next couple weeks—I'll tell you all about it. Swears!! In the meantime, I'm planning on laying low the next week or so. I just took a time machine back to 2004 and joined Netflix so that's kind of ruling my world. So far, I've seen an obscure german biopic (8 Miles High), a horrific dark comedy (Jennifer's Body), and a documentary about one of fashion's most revered designers (Valentino: The Last Emperor). Paper Heart just arrived in my mailbox today and I'm planning on watching it while I dye my hair. I just hope I don't get too engrossed and end up dying the hair on my neck instead of the hair on my head. Ugh, being frugal is hard!
Finally, I recently posted a new column on YourItList.com all about my personal obsession with pop producer Dr. Luke. Check it!